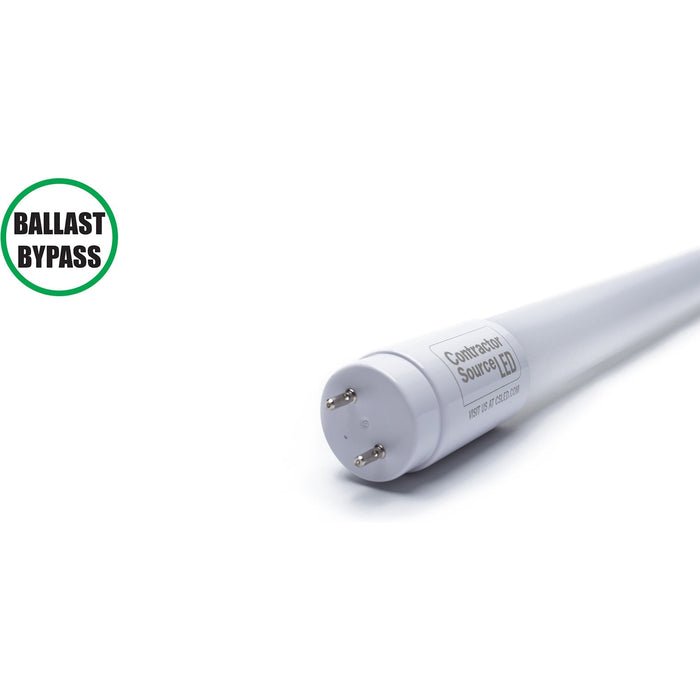 15W 4ft LED T8 Tube Ballast Bypass Single Ended - CSLED
Save

Liquid error (snippets/product-badge line 32): Computation results in '-Infinity'

%
SKU
CSL-T8003-15MN-50KB-B1 (108001)
Items will be sold by master carton, 30 pcs/box.
Compatibility and Wiring:
• Ballast Bypass - Single Ended Wiring Only
Specification
Wattage
15W
Voltage
100-277V
Lumens
2,250LM
Efficiency
150LM/W
Dimmability
No
Certifications
UL / DLC
Warranty
5 Years
Lifetime
50,000 Hrs
CRI
>80
Beam Angle
210D
IP Rating
Dry Location
Replaces
32W T8
Installation
Type B
Material
Nano
Description
The 4′ LED T8 Tube – Ballast Bypass is one of the top choices of most consumers simply because of its many advantages in efficiency, affordability, and reduced maintenance.
For so long, many businesses went with the old T12 fluorescent tube lights because they provided good output and coverage, and were inexpensive to purchase. Later, the T8 offered more in terms of energy savings and businesses started to switch out. Now, the LED T8 offers and even more significant energy savings option with easy installation.
With the ballast bypass lights, or type B LED tubes, you will have to manually bypass the existing fluorescent ballast. Contact one of our electricians if you are unsure, or learn more below.
What are LED T8s used for?
In the past, people have used fluorescent lamps because of their good lighting quality, longer lifespan, and cost effectiveness. Now, LED T8 lamps are widely used to replace fluorescent lamps in most commercial establishments, business centers, and residential communities. Many of our clients have used these lights in schools, hospitals, retail spaces, and office spaces.
What are the benefits of LED T8 Ballast Bypass bulbs?
Our Ballast Bypass LED T8s have numerous benefits that can help sway your customer to transition to LED. While the initial cost may be higher than older options, the savings pay off in the long-term.
One of the benefits is that it produces a higher quality light. The lamp gives off 1800 lumens, a color temperature of 5000k, and has a color-rendering index of 80. This gives the closest to daylight conditions as possible. This means that employees will be comfortable with uniform lighting and no eye strain. Customers will be secure and confident and products will be highlighted and featured under bright and accommodating light.
The T8 lamp also has an increased lifespan with 50,000 hours representing a significant increase over fluorescent technology. Now your customers will not have to climb ladders every few months to change out lights or service maintenance calls for flickering or slow turn-ons. With 30% better efficiency of 150lm/w compared to fluorescent lamps, these T8 lights are energy savers and environmentally friendly.
The LED T8 lamp is recognized with a UL mark that signifies its safety for consumers as well as a DLC listed mark for performance. These certifications make them eligible for energy rebates where available. We can assist with these rebates and we also offer a 5-year limited warranty which adds to the assurance that you are receiving a high-quality product. If you are planning a retrofitting project soon, consider these benefits of LED T8 lamps.
Ready to purchase LED T8 Lamps?
We can help you from the beginning of your project to the end. Do you have questions about how to sell LED T8 lighting to your clients? Do you need a sample or do you have fitting questions? Our electrician owners of CSLED.com are standing by to help you with all aspects of your business projects.
Our online system offers simple, hassle-free ordering with free shipping on every product right to your door. Our talented contractors stand by ready to take your emails and provide excellent customer service. Call us at 1-888-285-6629, email, or order now for the best in LED products and extras.
Installation
Click Here for Download Installation PDF