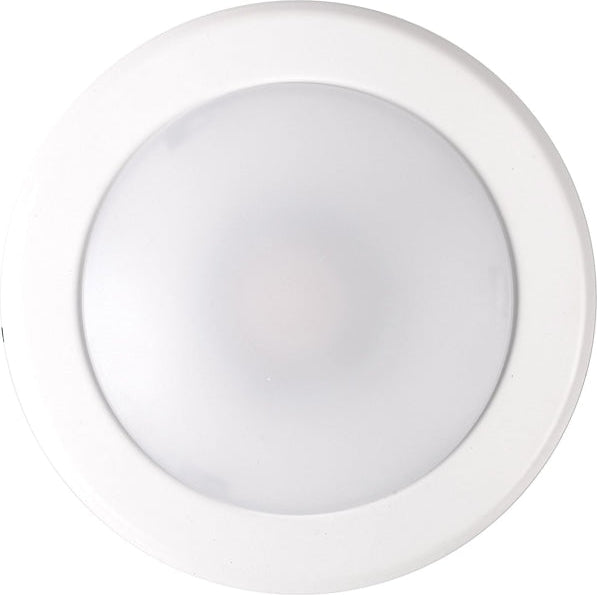 15W 5-6 inch LED Disk Light - CSLED
Save

Liquid error (snippets/product-badge line 32): Computation results in '-Infinity'

%
SKU
CSL-DS008-15W530K90D-J1 (216001)
Specification
Wattage
15W
Voltage
120V
Lumens
1,050LM
Efficiency
70LM/W
Dimmability
Triac
Certifications
ETL/Energy Star/Title 24/JA8
Warranty
5 Years
Lifetime
50,000 Hrs
CRI
>90
IP Rating
Damp Location
Description
Are you looking for a multi-purpose light that can fit into small rooms around the house? Maybe the shop you work in has low ceilings, but you still need a powerful enough light to brighten up the space? Sometimes the smallest fixture can give off enough light to illuminate a large room.
Our 15W LED Disk Light 3000K, also known as a Surface Mount Disk Light, can solve many lighting issues homeowners and businesses sometimes face – installing a light that is bright enough yet out of the way. The slim design is easy to install for either new lights or to replace existing fixtures. They fit perfectly into areas of the house and are bright enough for commercial and industrial uses as well.
LED lights have taken over the lighting industry for many reasons. They are durable fixtures that need a minimal amount of maintenance. The light they generate is superior to other lights on the market, and an LED bulbs lifespan will outlast all the others as well. Switching to an LED bulb will save you time and money every year you own one.
CSLED.com has a wide selection of LED lights, including 3000K Disk Lights that will fit all of your lighting needs.
Where are 3000K LED Disk Lights used?
You can use a 3000K LED Disk Light almost anywhere. Where they really come in handy, though, is in your house. You could easily mount a Disk light in the bathroom where the room is smaller, and there is a minimal amount of wall space available.
The same can be said in a closet in your home. Quite often, the closet space is small and narrow, with shelving making it challenging to install a light. However, the enclosed space is dark and hard to see. Mounting a 3000K LED Disk Light would illuminate the whole closet while taking up a minimal amount of space.
These are only a few examples of where you could install a Disk Light. Hallways are also an excellent spot, along with any living area in your home. Disk Lights also work well in commercial and industrial settings. Long and narrow corridors would benefit from an LED Disk Light, along with small workspaces and offices.
A Disk Light can also be retrofitted to withstand the outdoor elements, making them an excellent light to place in outdoor settings. You could mount them to the side of the house to brighten up the entrance, or add them to the backyard to keep the yard lit.
What do 3000K LED Disk Lights replace?
A 3000K LED Disk Light would replace your existing ceiling light fixtures. If you want to have a minimalistic look and remove any bulky light fixtures in your house, you could change them out with Disk Light.
These lights work great for recessed lighting. If you're wanting to have the light flush with the wall and tucked away, the 3000K LED Disk Light would be the option.
What are the benefits of using 3000K LED Disk Lights?
Many benefits of the 3000K LED Disk Light makes them appealing. Below are a few of the features you can ensure you'll get with a CSLED Disk Light:
Minimalistic Design
The Disk Light is designed in a way that makes it sleek and thin. This allows the fixture to fit into small spaces nicely, and to sit flush within the wall or ceiling.
No Flickering or Noise
with an LED light, you do not get the humming noise or flickering that other kinds of bulbs give off. All you have is a bright light with no sound. 
Simple Installation
The 3000K LED Disk Light is made so that you can easily install into almost any setting. Whether it be replacing an existing light fixture or installing a new one, the Disk Light requires no additional accessories or pre-installation processes. 
Warm Lighting
With the 3000K LED Disk Light, you get a warm white light to brighten up the room. There is no harsh lighting that is hard on the eyes or not enough that you cannot see. The warm light is soft and comfortable to see in. 
Lifespan
The lifespan of an LED light is second to none. Typically, one LED bulb can last for up to 50,000 hours. If you were to leave the light on for 10 hours every day, the bulb should last for about 10 years. 
The lifespan makes an LED light an excellent option for installing lights in hard to reach places, especially with recessed lighting.
Dimming
you can get a Disk Light with dimmable capabilities, making them an ideal choice if you want to change the brightness of the light throughout the day.
Energy Efficient
One of the main features that make LED bulbs so popular is their efficiency. They require a fraction of the energy to work compared to incandescent and fluorescent bulbs. LED bulbs are over 80 percent more efficient than its counterparts. There are a few reasons as to why: 
The first is the design of the bulb. LED lights do not need to heat up to produce light. They rely on semiconductors which generates a minimal amount of heat, which means they do not waste energy on expending heat.
LED lights also project their light in a downward motion, rather than all around compared to other lights. This makes it more energy efficient because it does not waste light in directions that do not require light.
Turn to CSLED.com for all of your lighting needs.
Switching to an LED bulb can save you money each year you have them installed. From their efficiency and requiring less amount of energy to operate to the lifespan in which you do not have to buy new bulbs as often, you will keep more money in your pocket while brightening up your home.
CSLED.com can help you with all of your lighting questions. Our trained technicians will ensure you leave with the correct light for the task at hand. Our 24/7 customer support means we are always available to help through our email and our toll-free number at 1-888-285-6629.
Installation