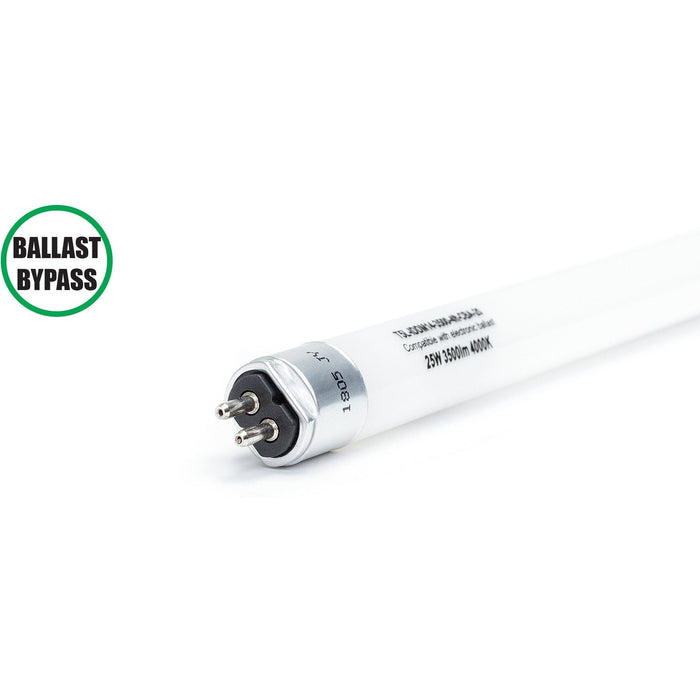 25W 4ft LED T5 Tube Ballast Bypass Double Ended - CSLED
Save

Liquid error (snippets/product-badge line 32): Computation results in '-Infinity'

%
SKU
CSL-T5007-25MG-50KDB-S1 (109002)
Items will be sold by master carton, 25 pcs/box.
Specification
Wattage
25W
Voltage
100-277V
Lumens
3,500LM
Efficiency
140LM/W
Dimmability
No
Certifications
UL / DLC
Warranty
5 Years
Lifetime
50,000 Hrs
CRI
>80
Beam Angle
210D
IP Rating
Dry Location
Replaces
54W T5HO
Installation
Type B-Double
Material
Glass
Description
LED lights were once considered the light of the future and for the rich. They were fairly expensive when first introduced, and not many people were ready to make the switch. Today's world, however, that mindset has completely changed. The push for LED lights is higher than ever and for many valid reasons.
LED lights are known to be long-lasting, highly efficient, and give off a crisp, bright light. The minimal amounts of heat that they produce make them an ideal choice for areas in which you require multiple lights, illuminating smaller rooms where the heat would affect the indoor temperature, or just about anywhere else that requires a light bulb.
A type of light that is common in not just industrial and commercial settings, but in households as well is the 25W 4' LED T5 Tube – Type B Ballast Bypass High Output light. It contains all the benefits of a trusted LED light and is suitable for many areas that need a bright light. Their long, cylinder shape makes them ideal for narrow rooms or hallways that still require a decent amount of light.
The Type B means that it bypasses the existing ballast if you're replacing a light, or removes the need to install a ballast at all. The socket of the light is wired directly into the line voltage.
Where are T5 Type B Tube LED lights used?
The T5 Type B Tube LED light works for many lighting situations, especially in areas that are long and narrow. For example, hallways tend to be quite confined. You want to be able to light up the entire corridor but are limited to the size of the light you can install. A tube LED light solves both problems. Because of its long and skinny shape, it can fit into narrow places all while provided a vast amount of light to the room.
T5 Type B Tube LED lights also work well in large spaces like warehouses, workshops, kitchens, and even in greenhouses. Their long shape can distribute a large amount of light below which could cut down on the number of lights needed to illuminate the space. Furthermore, the light distribution covers more space than other fixtures, also reducing the number of lights required.
What does T5 Type B Tube LED lights replace?
A T5 Type B Tube LED light would replace an existing linear fluorescent (LFL) fixture when you do not have the time or money for a comprehensive reinstallation. You would take the existing fixture and wire it to bypass the ballast. There is no need, then, to check the ballast compatibility and a minimal amount of maintenance is required.
What are the benefits of using T5 Type B Tube LED lights?
There are many benefits of switching to an LED light. If you're looking at replacing an existing light fixture, going with the T5 Type B Tube LED light has even more added benefits:
Simple Installation
Since there is no need for the ballast with the T5 Type B Tube LED bulb; the installation process is quite simple. You do not need to check if the ballast is compatible with the light as it will bypass it altogether.
Lifespan
The lifespan of an LED light is significantly longer than any other light bulb on the market. The average lifespan of a T5 LED light is roughly 50,000 hours. Compare that to an LFL which is about 30,000 hours, you have a light you won't have to change as often.
Instantaneous
When you flick on the switch, the light instantly comes on. No more waiting for the bulb to warm up before it starts to illuminate the room.
Efficiency
LED bulbs are known for being highly efficient. They require less amounts of energy to produce the same amount of light as their counterparts.
Cost Savings
There are numerous ways you'll save money by switching to a T5 Type B Tube LED bulb.
The average cost of a bulb has decreased over the years, making them more affordable.
Their incredibly long lifespan means you won't have to replace them as often. This will save you money by purchasing fewer bulbs. Since they are energy efficient, you'll save money on utilities because they do not need as much power.
Cut costs by installing fewer fixtures while still producing the same amount of light.
The Type B light specifically will save you money since they bypass the ballast and eliminates any replacement costs.
Full Light Distribution
The amount of light distributed and the direction it goes in can be important. With the structure of the T5 Type B Tube LED bulb, the light has a distribution degree that far exceeds other bulbs.
Quality of Light
Another feature known to LED bulbs is the quality of light. A T5 can come in a range from 3500K to 5000K, depending on what you're looking for. If you want a light that closely resembles daylight, a 5000K T5 Type B Tube LED bulb would give off a crisp, clear light that quickly brightens up the space below.
Simple Disposal
With LED lights, there are no harsh chemicals inside of them. This makes it easier when it is time to replace and dispose of the old bulb. Also, you can feel better knowing that if the bulb were to break while people are around, they would not be exposed to dangerous chemicals.
Visit CSLED.com for all of your LED needs
At CSLED.com, we understand the importance of not only have a quality light that is long-lasting and durable, but a light that is also safe for everyone. Installing a T5 Type B Tube LED light does have risks involved, which is why we recommend using our trained technicians to help you with your lights.
Talk with a CSLED.com light expert today to help you pick out the best bulb for your needs. Making the switch to LED lights now will only save you money each coming day. By going with CSLED.com, you are guaranteed 24/7 customer support through our email or toll-free number at 1-888-285-6629.
Installation
Click Here for Download Installation PDF