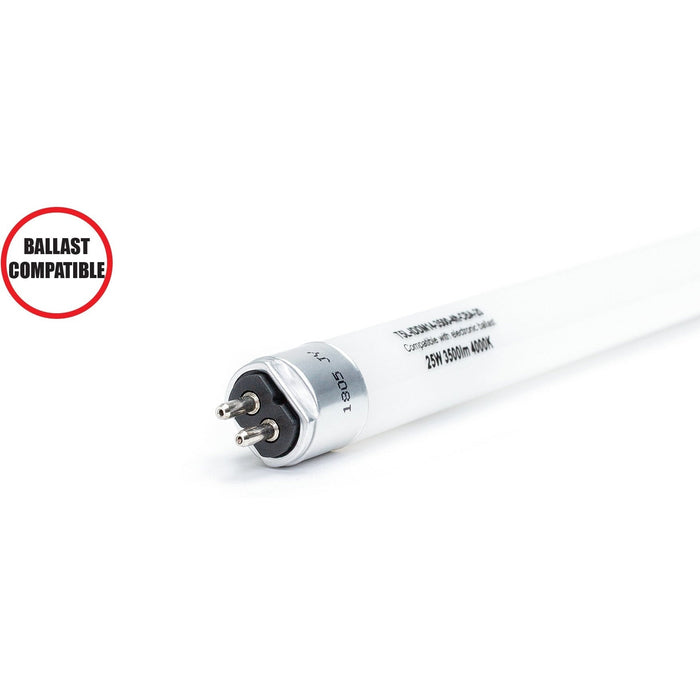 25W 4ft LED T5 Tube Ballast Compatible - CSLED
Save

Liquid error (snippets/product-badge line 32): Computation results in '-Infinity'

%
SKU
CSL-T5007-25MG-50KA-S1 (109001)
Items will be sold by master carton, 25 pcs/box.
Specification
Wattage
25W
Voltage
100-277V
Lumens
3,500LM
Efficiency
140LM/W
Dimmability
No
Certifications
UL / DLC
Warranty
5 Years
Lifetime
50,000 Hrs
CRI
>80
Beam Angle
210D
IP Rating
Dry Location
Replaces
54W T5HO
Installation
Type A
Material
Glass
Description
Making the switch to LED lights is worth every penny spent. Compared to fluorescent and incandescent bulbs, LED lights function better, last longer, and produce a crisp and clear light. Having a high-quality light is essential for every area that you need to see, especially in warehouses, department stores, and other large buildings. Without that light, the safety of all those in the area is at risk.
That is why incorporating LED lights to all fixtures in a building is the right decision. If you have a structure that requires quite a bit of light, our 25W 4' LED T5 Tube - Type A Ballast Compatible High Output bulbs are an excellent choice.
The Type A T5 light involves a ballast, unlike the Type B which can bypass the ballast. A ballast is what regulates the current in the existing fluorescent light fixture, and what gives the appropriate amount of voltage to turn on the light. If there were no ballast in place, the fluorescent bulb would draw in more current, ultimately leading to the bulb quickly overheating and burning out. To replace these types of fluorescent lights, the Type A would work with the existing ballast. However, you must ensure that the bulb is compatible with the ballast before installation.
With CSLED T5 lights, you can ensure a high-quality product that will brighten up any space you need. From long and narrow hallways to industrial warehouses, the T5 Type A Tube LED light will cover all of your lighting needs.
Where are T5 Type A Tube LED lights used?
You could find a T5 Type A Tube LED light almost anywhere that has a large demand for light while still being cost effective. These types of places may include large office spaces, schools, retail stores, department stores, warehouses, industrial buildings, and other forms of commercial buildings.
With the amount of light a T5 Type A Tube LED bulb produces, almost anywhere that requires a lot of light inside a building would benefit. They are powerful enough to illuminate large spaces without needed multiple fixtures.
What do T5 Type A Tube LED lights replace?
These types of bulbs would replace existing T5 fluorescent fixtures. If you want to switch to a more energy efficient bulb, the T5 Type A Tube LED light would be the one. You would need to check the ballast compatibility with the bulb before installation. Replace shop lights and other fluorescent linear fixtures with a T5 Type a Tube LED light.
What are the benefits of using T5 Type A Tube LED lights?
There are many benefits of using the T5 Type A Tube LED light. From the lifespan of the LED to the amount of light the bulb gives off, below are some of the key benefits you'll enjoy from an LED T5 bulb:
Option Dimming
With the correct ballast in place, the T5 lights have the capability to dim.
Little Heat Output – a significant benefit of an LED bulb compared to a fluorescent bulb is the little to no heat output. Fluorescent bulbs still do not produce as much heat as a standard incandescent bulb, but they still generate some heat. LED bulbs produce almost no heat at all.
Safer to Use
Fluorescent bulbs have mercury inside of them which is not something you do not want anyone to get exposed to. The mercury collides with electrons inside the bulb to produce ultraviolet light. If the bulb broke, which does happen, the mercury inside turns into a vapor that you can breathe in, which can be toxic.
LED lights work without the need of mercury or any other chemicals. Instead, they use semiconductors to emit light. If a bulb broke, there is no concern of chemicals escaping into the air.
Color Temperature
LED lights have come a long way with the color of the light produced. Today, LED bulbs come in a wide range of color, including 5000K which closely resembles natural daylight. 
Long-Lasting – a key feature to LED lights is how long they last for. Typically, an LED light has a lifespan of up to 50,000 hours. Quite often a T5 light is in hard to reach places or areas you do not want to change as often. An LED T5 then would mean you wouldn't have to replace the bulb as often.
Light Output
There are two key features when it comes to the light output of an LED bulb:
First, LED bulbs have a higher lumen output compared to other kinds, which means they produce a brighter light. You wouldn't need as many T5 LED bulbs as you would with a fluorescent or incandescent bulb.
Second, the direction in which the light is distributed is important to note as well. LED bulbs are directional, meaning you can shine the light in a more specific area without wasting any light in other places.
Savings
There are many ways you'll save money by switching to an LED bulb: 
LED bulbs are very energy efficient. They require less power to produce the same amount of light as their counterparts.
Their incredibly long lifespan means you wouldn't spend money continually replacing the bulb.
Less light fixtures would need to be installed to brighten up a room.
CSLED.com has everything you need for your LED lights.
Deciding on the right light for what you need doesn't have to be difficult when you choose CSLED. Our lighting experts will be able to guide you through the process of switching your existing T5 lights over to an LED bulb. We'll work with you to ensure the Type A bulb is compatible with your current ballast fixture.
Select a CSLED bulb and ensure you are getting a high-quality product that will last for many years to come. Don't spend money every year having to replace the same light. Choose the right one today and don't worry about it for a very long time. Visit CSLED.com today, or call our 24/7 customer support line at 1-888-285-6629 today to learn why you should switch to an LED T5 bulb.
Installation
Click Here for Download Installation PDF