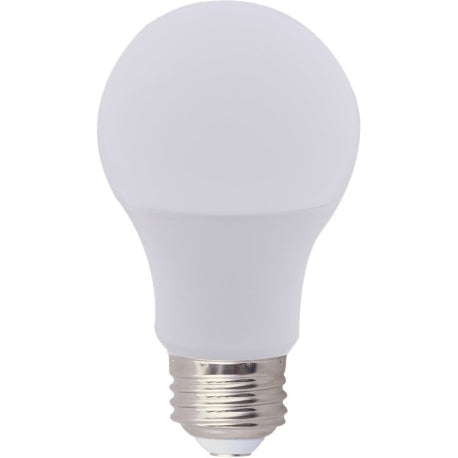 9W LED A19 2700K Dimmable - CSLED
Save

Liquid error (snippets/product-badge line 32): Computation results in 'NaN' (Not a Number)

%
SKU
CSL-A19-009-9W27K80D-L1 (101002)
Specification
Wattage
9W
Voltage
120V
Lumens
800LM
Efficiency
89LM/W
Dimmability
0-10V
Certifications
UL / Energy Star
Warranty
3 Years
Lifetime
15,000 Hrs
CRI
>80
IP Rating
Damp Location
Base Type
E26
Description
Are you looking at making your home more energy efficient? Maybe the push is because of money. Alternatively, perhaps you want to become more economically friendly and help protect the environment. Both of those reasons could be your push to turn your house into a more energy efficient home.
Whatever the case may be, switching your lights to LED bulbs is an excellent step towards an energy efficient home. Because they use significantly less power than other conventional lighting sources, and their lifespan is double, sometimes triple that of other lights, your household will use less energy and have to purchase fewer bulbs.
Not sure where to start? Why not begin with a typical household light, the A19 bulb. These standard bulbs light up indoor light fixtures and lamps all around your home. The 9W LED A19 2700K equivalent can likely replace the majority of lights within your home today.
By going with the LED version of the 9W A19 bulb, you are installing a bulb that is safer to use, longer lasting and distributes an evenly diffused light. The round shape of the bulb is what most households are used to with the traditional incandescent bulb. By going with the 2700K LED light, you are also getting the same tone and warmth that the incandescent bulbs tend to give off.
Where are 9W LED A19 lights used?
Because 9W A19 lights are a standard household bulb, you most likely use these lights in a variety of places around the home and in the office. The 2700K gives off a warm white colored light, perfect for a more intimate setting.
For residential purposes, think of all the areas in your home in which you want a soft light, and that is where you would put a 9W LED A19 bulb. Start with the living room. This is an area of the home in which you are likely to relax with the family or entertain guests. Having too bright of light and it can be hard on the eyes, and make it difficult to relax. However, too low of light and it will be challenging to see and likely make you want to sleep.
The 2700K 9W LED A19 brings together both sides of the spectrum, giving you a soft light that is perfect for both entertaining and relaxing, making it an excellent choice for living room lamps and ceiling light fixtures.
The A19 bulb also works in your bedroom as well. The soft, warm white glow will brighten up the whole room enough for you to properly see, but without the harshness a brighter light gives off. Alternatively, you could install these bulbs in a lamp beside the bed for nighttime reading.
Don't think that this bulb is only suitable for indoor applications. The 9W LED A19 bulb also works perfectly outside in your yard as well. Porch lights, lamps around the deck, and fixtures on the side of the house would work.
If you are putting an LED light outside, however, make sure it has a particular outdoor rating. If it is out in the open, it will need to be rated for damp or wet conditions. If the bulb is in an enclosed fixture, it will need to have a special enclosed rating.
What do 9W LED A19 lights replace?
A 9W LED A19 bulb can replace any standard 60W incandescent or 13W compact fluorescent light around your home. Since incandescent bulbs are slowly being phased out, switching to the LED equivalent is the best option.
Basically, any common household light fixture that uses an A19 shaped bulb, you could replace it with the 9W LED version.
What are the benefits of using a 9W LED A19 light?
There are many benefits to using the 9W LED A19 bulb over other conventional lights:
Safety
Since the A19 bulb is a standard household bulb, you'll want something that is safe to be around your family. The LED equivalent is one of the safest lights you can install. There is no mercury and emits almost no UV light.
Other types of bulbs (fluorescent, metal halide, high-pressure sodium bulbs for example), contain mercury. When exposed to the air, mercury turns into a vapor which can be toxic when breathed in. So, if one of these bulbs broke in the home, it could be dangerous to anyone in the area.
LED bulbs do not rely on mercury to produce the light. If they were to break, there would be no concern of the toxic vapor mercury can produce.
When it comes to UV lights, our eyes are very sensitive to it (which is why you shouldn't look directly at the sun). Although you still shouldn't look directly into the light, LED bulbs emit very little to no UV light.
Energy Efficient
As a common household item, have the option for a more energy efficient alternative is a huge benefit. The LED is up to 80 percent more efficient than incandescent and other types of bulbs. 
Longer Lifespan
The LED A19 bulb has a lifespan of up to 25,000 hours, which is significantly longer than incandescent and compact fluorescent alternatives. You won't have to replace this bulb nearly as often. 
Save Money
Because of how efficient LED bulbs are, your power bill will continue to decrease each time you replace other lights with an LED alternative. 
Since LED lights last for so long, you won't have to buy as many bulbs quite as often.
Call CSLED.com today to see the advantages of switching to LED bulbs.
Switching your household lights to LED bulbs is easy with CSLED.com. Our technicians are here to answer all of your questions, and to ensure you go home with the correct bulb for all of your features.
Make your home energy efficient and safer for everyone around by installing a 9W LED A19 bulb into all your lighting fixtures. To help you out, our customer service is available 24/7 through our website, email, and toll-free number at 1-888- 285-6629. Let CSLED.com help you make the switch today.