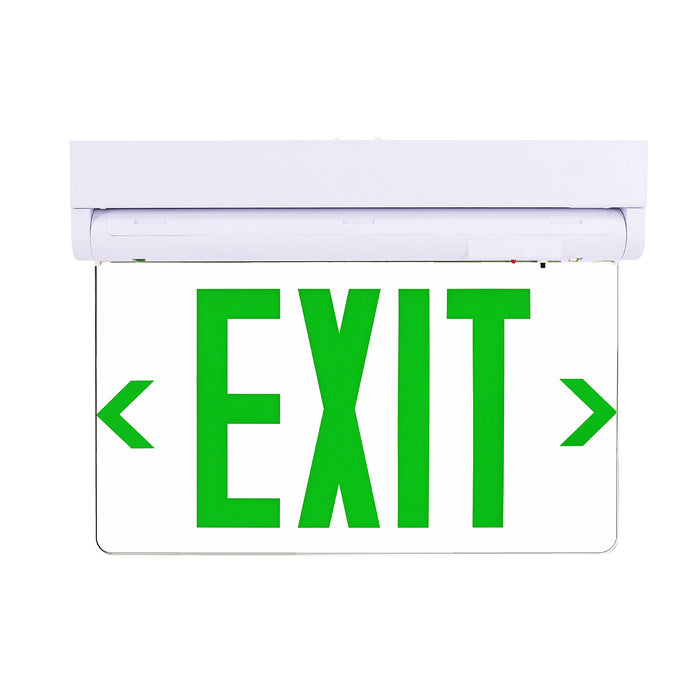 Clear Green Exit Sign
Save

Liquid error (snippets/product-badge line 32): Computation results in 'NaN' (Not a Number)

%
Warranty: 5 Years for Electrical Parts, 3 Years for Battery
Specification
Wattage
3.5W
Voltage
120-277V
Output Voltage
120-347Vac
Battery
Built-in 12V 1000mA NiCad
Emergency Operation
90 Mins
Double Sides
Yes
Description
Wattage: 3.5W
Voltage:120-347Vac
Something as simple as an emergency exit sign should not be overlooked. They serve an essential purpose in case an emergency broke out. The sign directs everyone in the building to the closest exit in which they can safely evacuate the building.
When powered by an LED bulb, the emergency exit sign will shine brightly whether the area is lit or dark. However, it is when the power goes out that the LED emergency exit sign is crucial. The LED bulb keeps the sign well-lit so that people can read it no matter where they are.
Our LED emergency exit signs are long-lasting, powerful, and durable. You can install them onto any interior wall in any environment. No matter what would happen, the Exit Sign would remain lit and withstand any elements around.
Emergency exit signs are mandatory in many circumstances. Public buildings in which many people are in will need to have some sort of signage to direct people to the nearest exit. By going with the LED version, you can ensure the sign will always be working when it matters the most.
With how vital an emergency exit sign is, don't rely on just any light. An LED emergency exit sign from CSLED.com is high-quality and efficient, providing your building with the security in case of an emergency.
Where are LED emergency exit signs used?
An LED emergency exit sign would be used wherever there is a requirement for them. Depending on the style of emergency exit sign you use, that would help decide whereabouts you would install one.
Signs that spell out the word EXIT are typically installed over the door. That way, it is evident that this door is an emergency exit for when it is needed the most.
Other types that have an arrow point towards the direction of the doorway would be installed on a wall that directs people the right way. If the emergency exit isn't visible from where someone is standing, the arrow from these signs will lead the person towards the door.
Any public domain would need an emergency exit sign. Commercial offices, retail stores, schools, apartment buildings, hospitals, and anywhere else in which many people are in would require an emergency exit sign.
What do LED emergency exit signs replace?
LED emergency exit signs replace all of those that do not currently operate with an LED bulb. Incandescent and Fluorescent bulbs are very inefficient and do not last nearly as long as an LED bulb does. By switching them out with the LED equivalent, you will start to save money in many ways, all while having a powerful light to keep the sign lit.
What are the benefits of using LED emergency exit signs?
We know the benefits of having emergency exit signs in a building. What about having LED emergency exit signs though? Take a look at some of the features to see why the LED option is by far the best type to get:
Energy Efficient
Emergency exit signs are meant to stay on all day, every day. That means a lot of power goes to keep those signs illuminated. Having an energy efficient light will save you money on your energy bill every year.
- LED bulbs use up to 80 percent less energy than other traditional lights, including Fluorescent and Incandescent bulbs. LED emergency exit signs can use as little as five watts, which will significantly decrease your energy bill.
- Fluorescent and Incandescent bulbs use most of their energy for heat production to make the bulb work. Only about 10 percent of the energy used goes to the generation of light.
Cost Effective
When you take into account the lifespan and their efficiency, LED emergency exit signs are the most cost effective option on the market. You could see a savings of over $500 on your energy bill. There will be two ways you'll see savings from LED emergency exit signs:
- As noted, their efficiency means they require a significantly less amount of power to operate.
- Because of how long these light bulbs last for, you won't need to replace them nearly as often as you would with other types of lights.
Safety
LED lights are also the safest option you can get for a couple of reasons: 
- They contain no mercury, unlike Fluorescent exit lights. Mercury can be toxic to humans when exposed to the atmosphere after a light breaks.
- LED bulbs also meet all safety regulations from the government and fire department.
Quality
The quality of light from an LED bulb is the highest you can get. They are powerful and bright to ensure the Exit Light is thoroughly visible.
The quality of the sign itself is also high. They need to be able to withstand all of the elements thrown at it. These signs can withstand high and low temperatures, damp locations, and fires.
CSLED.com has everything you need for your Emergency Signs and Lights.
Let CSLED.com help you with all of your Emergency Signs and Lighting needs. We know how important it is to have proper signage for all emergency exits. However, we also know the importance of complying with all federal laws or any other requirements from the fire department.
Our LED emergency exit signs comply with everything you need. Not only that, by going with the LED option they are the most energy efficient and have the longest lifespan than any other light on the market. You can trust that your CSLED.com LED emergency exit sign will always be working when you need it the most.
With our 24/7 customer support, CSLED.com is always there to answer any question you may have. Talk to us today through our website, email, and toll-free number at 1-888-285-6629.
Download the Specification Sheet
Installation