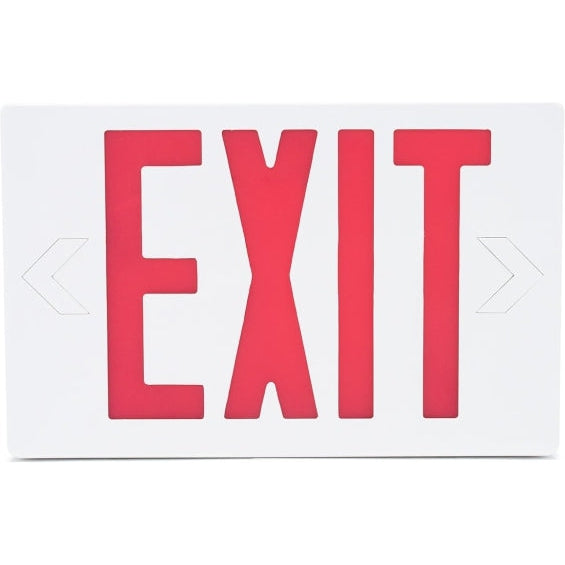 LED LED Emergency Exit Sign RED
Warranty: 5 Years for Electrical Parts, 3 Years for Battery
Specification
Voltage
120-277V
Certifications
UL
Lifetime
50,000 Hrs
IP Rating
Dry Location
Battery
Built-in 12V 1000mA NiCad
Emergency Operation
90 Mins
Double Sides
Yes
Description
Something as simple as an emergency exit sign should not be overlooked. They serve an essential purpose in case an emergency broke out. The sign directs everyone in the building to the closest exit in which they can safely evacuate the building.
Our LED emergency exit signs are long-lasting, powerful, and durable. You can install them onto any interior wall in any environment. No matter what would happen, the Exit Sign would remain lit and withstand any elements around.

Emergency exit signs are mandatory in many circumstances. Public buildings in which many people are in will need to have some sort of signage to direct people to the nearest exit. By going with the LED version, you can ensure the sign will always be working when it matters the most.
Where are LED emergency exit signs used?
An LED emergency exit sign would be used wherever there is a requirement for them. Depending on the style of emergency exit sign you use, that would help decide whereabouts you would install one.
Signs that spell out the word EXIT are typically installed over the door. That way, it is evident that this door is an emergency exit for when it is needed the most.
Other types that have an arrow point towards the direction of the doorway would be installed on a wall that directs people the right way. If the emergency exit isn't visible from where someone is standing, the arrow from these signs will lead the person towards the door.
Any public domain would need an emergency exit sign. Commercial offices, retail stores, schools, apartment buildings, hospitals, and anywhere else in which many people are in would require an emergency exit sign.
Energy Efficient
Emergency exit signs are meant to stay on all day, every day. That means a lot of power goes to keep those signs illuminated. Having an energy efficient light will save you money on your energy bill every year.
- LED bulbs use up to 80 percent less energy than other traditional lights, including Fluorescent and Incandescent bulbs. LED emergency exit signs can use as little as five watts, which will significantly decrease your energy bill.
- Fluorescent and Incandescent bulbs use most of their energy for heat production to make the bulb work. Only about 10 percent of the energy used goes to the generation of light.
Lifespan
LED lights have the longest lifespan over any other light on the market. One bulb can last anywhere between 50,000 and 100,000 hours, depending on the type and what you are using the light for. 
Since the emergency exit sign is only 24/7, having a bulb that lasts is essential.
Quality

The quality of light from an LED bulb is the highest you can get. They are powerful and bright to ensure the Exit Light is thoroughly visible.
The quality of the sign itself is also high. They need to be able to withstand all of the elements thrown at it. These signs can withstand high and low temperatures, damp locations, and fires.
CSLED.com has everything you need for your Emergency Signs and Lights.
Let CSLED.com help you with all of your Emergency Signs and Lighting needs. We know how important it is to have proper signage for all emergency exits. However, we also know the importance of complying with all federal laws or any other requirements from the fire department.
Our LED emergency exit signs comply with everything you need. Not only that, by going with the LED option they are the most energy efficient and have the longest lifespan than any other light on the market. You can trust that your CSLED LED emergency exit sign will always be working when you need it the most.
CSLEDAZ is always there to answer any question you may have. Talk to us today through our website, email, or phone number 602-366-0431
Installation